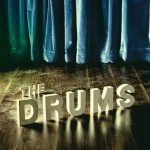 Wer bei dem lustig ruckelnden und ausgesprochen einzigartig tanzenden Blondschopf Jonathan Pierce von der Band The Drums bisher nicht in Verzücken ausbrach, hat jetzt erneut die Chance dazu.
Das lang ersehnte, gleichnamige Debütalbum des Quartetts aus Brooklyn, New York, erscheint nun endlich bei Moshi Moshi/ Cooperative Music. Wer bis zur VÖ am 04.06.2010 nicht mehr warten kann, wird beim Besuch der bandeigenen Homepage getröstet:
Neben dem Gratisdownload eines der neusten Songs "It Will All End In Tears" kann man hier nun auch das Video zur neuen Single "Forever And Ever Amen" ansehen. Mit dabei: Der kleine Fratz, der bereits so eindrucksvoll "Saddest Summer" immitierte.
Termine:
18.05.10 Koeln (Gebaeude 9)
31.05.10 Berlin (Postbahnhof)
01.06.10 Hamburg (Molotow)
15.08.10 Hamburg (Dockville Festival)
17.08.10 Muenchen (Atomic Café)
20.08.10 Grosspoesna (Highfield Festival)