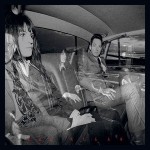 Neue Videos von The Kills rufen ja grundsätzlich gerne schon vor dem ersten Ansehen meterhohe Gänsehaut hervor. So geschehen auch beim neusten audiovisuellen Augenschmaus zur rauchig-schönen Single "Baby Says".
Zu sehen: Eine sonnenbebrillte, großartige Alison Mosshart in schummriger Barbeleuchtung, die mit Bandkompagnion Jamie Hince (Hier mit Perücke und Make-Up) mal eben die (Geschlechter-)Rolle getauscht hat.
Worum es eigentlich geht? Um das Gefühl im falschen Körper geboren zu sein und – wie eigentlich immer – um die große, manchmal nicht benennbare Sehnsucht, die einen schier in den Wahnsinn treiben kann.
Aber seht einfach selbst:

THE KILLS "Baby Says" von domino
Termine:
27.11. Köln – E-Werk
29.11. München – Tonhalle
30.11. Berlin – Columbia Halle
The Kills auf MySpace.
The Kills Online.