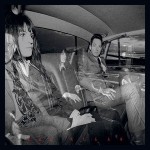 Wer nun angesichts des fünften oder sechsten The Kills-Beitrages innerhalb kürzester Zeit entnervt aufkeucht, der möge sich doch bitte sofort in die nächste Zimmerecke stellen und schämen.
Denn: The Kills sind einfach phantastisch. Punkt. Aus. Basta.
Ein guter Beweis dieser These ist nach der bereits erschienen Single "Satellite" (Wir erinnern uns…) der kleine Heißmacher in Form eines Teaser zum neuen Album "Blood Pressures", das nach viel zu langer Wartezeit am 4.April dann nun auch endlich in den Läden erhältlich sein wird.
Wem die Zeit bis dahin zu lang ist, der kann sich effektiv ablenken, indem er Alison Mosshart-Bilder anhimmelt oder hier den Track "DNA" kostenlos herunterlädt. Macht beides verdammt glücklich.
Termine:
08.04.2011 – Berlin, Huxley's
The Kills auf MySpace.
The Kills Online.
Weitere Beiträge über The Kills auf Stereopol.