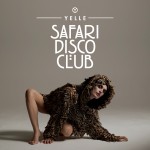 Es gibt ja Namen, die einen bei der Aussprache selbiger doch leicht mal ins Stolpern bringen können. So auch bei der wunderbaren Yelle aus Frankreich. Wird das "e" am Ende nun betont oder nicht? Und warum bleibt man nicht beim bürgerlichen Namen, wenn der schon so klangvoll "Julie Budet'" lautet?
Wikipedia verrät dazu Folgendes: "Ihr Künstlername ist ein Akronym von "You enjoy life"."
Unabhängig vom heiteren Namensraten lässt sich feststellen, dass das talentierte Fräuleinwunder aus der Bretagne am 25.03.2011 ihr neues Album "Safari Disco Club" veröffentlichen wird und schon mächtig stolz ist:
"We are really proud of it, and I'm very excited to be onstage and sing it."
Wer sich vom neusten Geniestreich der elektronisch angehauchten Dame selbst ein Bild machen will, kann sich auf der bandeigenen Website oder bei Soundcloud die erste Singleauskopplung "Safari Disco Club" gratis runterladen.
Yelle auf MySpace.
Alle Termine
27.01.2011 Berlin, Ritter Butzke