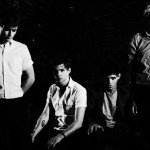 Am Stereopol befindet man sich im allgemeinen Umzugsstress – längere Postingpausen sind also nichts Ungewöhnliches. Wir entschuldigen uns artig und versprechen: Bald gibt's wieder mehr auf die Ohren und Gucker.
Bis es soweit ist, erfreuen wir uns am neuen Video von The Drums zur zigtausendste Singleauskopplung vom selbstbetitelten Debütalbum der Jungs.
"Me And The Moon" heißt das Stück und zeigt – wie zu erwarten war – einen Herren weniger im Bunde. Statt Schlagzeuger Adam schwingt nun eine langhaarige Dame die Drums im Takt.
Uns gefällt das trotz einer Prise Wehmütigkeit fast ebenso gut, wie die Tatsache, dass man den Song hier gratis downloaden kann. Hurra!
Sehenswert auch: The Drums live am 21.November 2010 in der Maria am Ostbahnhof.
The Drums auf MySpace.