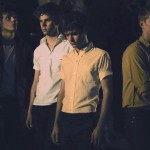 Traurige Nachrichten für alle Fans der großartigen New Yorker: Gitarrist Adam Kessler hat The Drums verlassen, wie die Band heute auf ihrem Facebook-Profil erklärte.
"There have been some questions as to recent events and we are sorry to say that Adam has left The Drums. Jonny, Jacob and Connor are devastated and are keeping to themselves and with friends at this time. The band are currently on the road in America. Thank you for all of the support, it means a lot."
Was genau die Ursache für den plötzlichen Ausstieg war, ist abzuwarten. Bleibt intensiv zu hoffen, dass Jonathan, Jacob und Connor schleunigst Ersatz finden und nun nicht auch plötzlich das Handtuch werfen.
Wir drücken heftigst die Daumen!
Weitere Beiträge zu The Drums auf Stereopol:
The Drums – Es wird wieder getanzt! Video zu "Down By The Water"
The Drums – Neues Video zu "Forever And Ever Amen" + Gratisdownload
The Drums – Konzertkritik